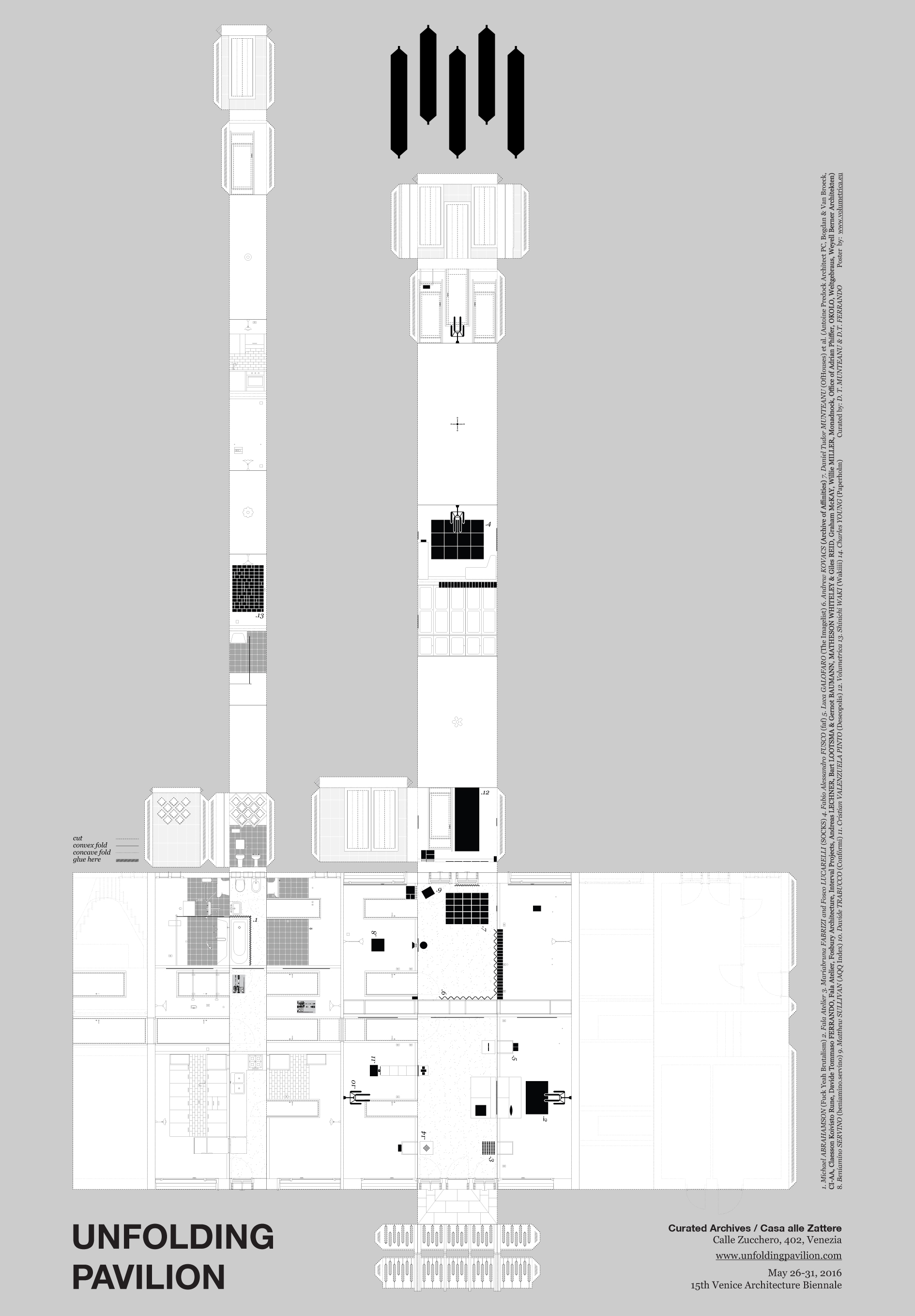 unfoldingpavilion.com
The Project
The Unfolding Pavilion is an exhibition and editorial project by Daniel Tudor Munteanu and Davide Tommaso Ferrando that pops up at major architecture events in previously inaccessible but architecturally significant buildings.
On each occasion the Unfolding Pavilion features a different theme inspired by the space it occupies, by means of commissioned original works that react to it and to its wider cultural-historic background. The Unfolding Pavilion doesn't necessarily care about the hosting event's theme. It lets its occupied space inspire its own. Without a good exhibition space (of the finest architectural making), the Unfolding Pavilion doesn't have any reason to exist.
Like any pop-up, the Unfolding Pavilion only lasts for a short but intense period of time. After closing its doors, its activity unfolds online with a continuously updated stream of content. Once the hosting event closes, the Unfolding Pavilion's website is archived and a book documenting (and retroactively critiquing) the whole process is published.
After that, the Unfolding Pavilion begins again at another major architecture event, occupying another space and turning to another topic.
In its 2016 iteration, the Unfolding Pavilion enters Ignazio Gardella's Casa alle Zattere from the 26th to the 31st of May 2016, on the occasion of the opening of the 15th International Architecture Exhibition at the Biennale di Venezia, converting one of its apartments in a temporary gallery of works made by some of the most unique authors of architecture-related curated archives.
Unfolding Pavilion 2016
The Works
Starting from the recognition of the recent rise of 'curated archives' as a phenomenon of interest for architectural communication, as well as from an interpretation of the Casa alle Zattere that insists both on the editorial character of its facade and on the spatial complexity of its interiors, the Unfolding Pavilion invited architects who are actively and successfully working on 'curated archives' to illustrate the core concepts of their editorial projects, by means of an object/installation capable of reacting to both Gardella's building and the specific space occupied by the Unfolding Pavilion.
The invited architects were asked to produce an original work that applies the theory/protocol of their 'curated archives' to the Casa alle Zattere - to one or more of its elements/spaces/representations, to the whole building, to the relation of the project with its urban surroundings, etc. - and so to use the Venetian house as a sort of tool to reflect on their editorial work, just as the representations of Renaissance ideal cities served as tools to experiment with the new technique of perspective.
Michael ABRAHAMSON (Fuck Yeah Brutalism).
FYB Housewares, ver. 2.1 (Bilderatlas).
Shower curtain. Digital print on vinyl, embroidery.
181 cm x 187 cm.
Fala Atelier. >
Giulio's Airbnb Apartment.
Digital print on paper.
128 cm x 92 cm.
Mariabruna FABRIZI and Fosco LUCARELLI (SOCKS).
SOCKS: A Portable Musem.
Deck of 60 cards. Digital print on paper. Paper box.
6.2 cm x 8.8 cm (each), 55.8 cm x 61.6 cm (overall).
Fabio Alessandro FUSCO (faf).
Analogous Venice.
Graphite on paper, 12 panels.
50 cm x 50 cm (each), 200 cm x 150 cm (overall).
Luca GALOFARO (The Imagelist).
Frammenti di un Atlante dell'Immaginazione / Fragments of an Atlas of Imagination.
Digital print on plexiglass, 2 panels.
15 cm x 20 cm x 3 cm (each).
Andrew KOVACS (Archive of Affinities).
Making Architecture from Architecture.
20 pamphlets. Digital print on paper, edition of 50 (each).
15 cm x 21 cm (each).
Daniel Tudor MUNTEANU (OfHouses) et al.
Face of the House.
Installation. 26 plates, laser print on paper, floor mounted.
21 cm x 29.7 cm (each), 150 cm x 100 cm (overall).
Invited authors:
Antoine Predock Architect PC (Antoine Predock, graphic image by Paul Fehlau). House with a Finger.
Bogdan & Van Broeck (Oana Bogdan, Leo Van Broeck). Face 2 Face.
CI-AA (Thiago Almeida, Priscila Belas, Lucas Ramos). House with an Unfilled Face.
Claesson Koivisto Rune (Eero Koivisto, Deta Koivisto). House with a Red Door.
Fala Atelier (Filipe Magalhães, Ana Luisa Soares, Ahmed Belkhodja). Siza.
Davide Tommaso FERRANDO. Untitled.
Fosbury Architecture (Giacomo Ardesio, Alessandro Bonizzoni, Antonio Buonsante, Nicola Campri, Veronica Caprino, Federico Casati, Claudia Mainardi, Marco Taccagni). Se lo vedi tu lo vedranno anche i tuoi clienti.
Interval Projects (Benedict Clouette, Marlisa Wise). Veil.
Andreas LECHNER. Static Nine Bay Windows.
Bart LOOTSMA & Gernot BAUMANN. Yamashita Shirai.
MATHESON WHITELEY (Jason Whiteley) & Giles REID. Untitled.
Graham McKAY. Neither Art nor Artifice.
Willie MILLER. The Magritte Dental House.
Monadnock (Job Floris). Kabuki Mask.
Office of Adrian Phiffer (Adrian Phiffer). House out of Context.
OKOLO (Adam Št?ch, Mat?j ?in?era, Jan Kloss). Untitled.
Weltgebraus (Andreas Kofler, Marcelo Tavone). The Origin of the House.
Weyell Berner Architekten (Florian Berner, Miriam Weyell). House F. House M.
Beniamino SERVINO (beniamino.servino)
with Teresa ESPOSITO, Marco Maria Nicola GIUDICIANNI, Lorella LIGNELLI, Maria Antonietta SANTANGELO, Dmytro SEMENYUK.
BS 05 20 16.
Rilievo della Casa alle Zattere a Venezia.
Palazzina per la villeggiatura nel Mediterraneo del nord / Luxury apartment building for vacationing in the Northern Mediterranean.
Digital print on PVC.
50 cm x 50 cm.
Matthew SULLIVAN (AQQ Index).
Pim Stool.
Maple wood, green and black lacquer.
42 cm x 35 cm x 47 cm.
Bowl.
Fluted cement.
30 cm ( ø ) x 22 cm.
Davide TRABUCCO (Confórmi).
Versus.
Lampshade. Plastic (laser cut), wire.
60 cm x 60 cm x 112 cm.
Cristian VALENZUELA PINTO (Deseopolis).
Memory Retention Devices.
Installation. Digital print on paper (42 cm x 29.7 cm), balsa wood model with door eye viewer (18.6 cm x 9.7 cm x 8.5 cm), plaster relief (12 cm x 12 cm x 0.4 cm), text on A4 paper sheets.
c. 100 cm x 30 cm (overall).
Volumetrica. >
Curtain.
Linen, wool.
150 cm x 250 cm.
Pillow.
Linen, wool, scented herbs.
40 cm x 40 cm.
Shinichi WAKI (Wakiiii).
House.
105 photographs. Digital print on photo paper.
119.5 cm × 177.8 cm (overall).
Charles YOUNG (Paperholm).
Paperholm: Appendix 1. Zattere.
Paper handmade sculptures, wooden base.
20 cm x 20 cm x 15 cm.